Yesterday we all trooped out to the Virginia State Fair, which this year was at snazzy new fairgrounds–further away for us, but much nicer than the old location.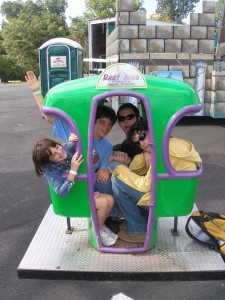 (I think the kids are bigger than they used to be.)
I love the State Fair–my first foray into the horse world was as a 4-H State Fair exhibitor (long, long ago) and now I feel all nostalgic and warm whenever I smell that State Fair aroma of barns combined with Italian sausages and dozens of booths deep fat frying everything under the sun.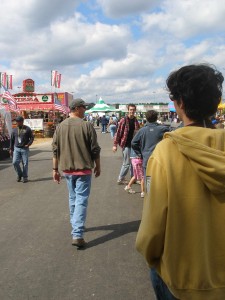 Plus we always visit all the animal barns, and marvel over the giant pumpkins, and I admire the quilts (one day I want to learn how to quilt). And I contemplate acquiring more farm animals, or growing hay, or doing some other agricultural thing that's completely impractical and labor-intensive. And we eat. Pizza, sausages, corn dogs, fried Oreos, fried candy bars, fried dough.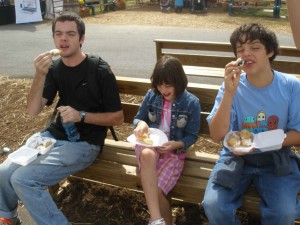 (Dan's expression is one of joy and satisfaction, in case you're wondering.)
While we were there, my Norton editor emailed me a couple of times about flap copy and other book-related details. I sent him back a message on my Blackberry that I was watching pig races and eating a deep-fried Snickers bar. I'm not sure he really knew what to make of that.
Today I have State Fair hangover, though: sore feet, sore shoulders (I got to haul everyone's candy-bags and assorted plastic junk around while they cavorted on the midway), and a desire to eat fresh fruit. I'm supposed to be sitting here finishing flap copy for the History of the Medieval World, working on the History of the Renaissance, and answering about thirty absolutely urgent emails that came in yesterday while we were eating fried food. Instead I'm just kind of sitting here.
Worth it, though.