So I've been to Broadcast House twice today to do live interviews on BBC programs.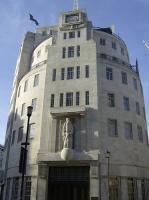 Tonight I did Night Waves; you can listen to the program here for the next seven days…endure through the few seconds of dead air, as there were some technical difficulties right at the beginning of the program (and I'm not on until the last fifteen minutes, although the rest is fascinating too).
This was a live studio interview, with all four of us around the table…host Anne McElvoy, me, London South Bank University president Deian Hopkin (a charming man with much patience, and a native Welsh speaker), and A. S. Byatt.
OH MY GOSH, A. S. BYATT. She just walked in and said "I've had the most hellish taxi ride!" and I practically fell down at her feet. I had no idea that she was the other guest. A. S. Byatt has got to be one of my favorite novelists of all time, and absolutely the most faithful, insightful chronicler of women's lives EVER….EVER….
AHEM.
So on the way to the studio I said to her, "I'll probably never have the chance to say this again, but I loved A Whistling Woman." And then after the program was over she talked to me! And told me that she would like to read my book! And waved goodbye and said, "Have a lovely evening!"
I am TOTALLY STARSTRUCK.
More tomorrow….