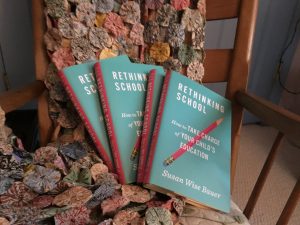 Today's publication day for Rethinking School: How to Take Charge of Your Child's Education!
So I'll just be deworming sheep and then heading to the office.
When your first book comes out, you anxiously await publication day, expecting floods of congratulatory phone calls, a surprise party, confetti descending at odd moments, choruses of trumpets whenever you walk through doors…and then nothing happens. It's a bit of a let-down, the first time.
But then you realize that what REALLY matters is that the book is out there. And people can read it. And you can keep on working on the next one.
So, folks? The book is out there. You can read it. (Check out the links below.) And I'm working on the next one.
"Bauer makes a passionate case for why the K–12 system desperately needs to be rethought, and for why our criteria for judging educational success must change." (Publishers Weekly)
"Bauer writes in a steadily reassuring tone…A welcome operator's manual for parents of school-age children, inside or outside the K-12 paradigm." (Kirkus)
Rethinking School at Barnes & Noble