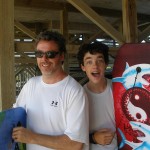 So we're back from our family vacation in the Outer Banks.
We usually try to vacation right at the end of the summer, which has two purposes–we all get to eat as many Pop Tarts and cookies as we want, and it provides us with a nice break between school years. We teach the kids at home year round. That way, we can take breaks when we need them, but the grades do tend to slide into each other. Now we can say: Well, you were in fifth grade before vacation, and now you're in sixth grade!
Not that this really helps. I keep telling them what grades they're in, but whenever a pediatrician/distant relative/random grocery clerk asks politely, "What grade are you in?" I get the not-so-intelligent look and a long "Uh…." Which makes me look like I'm either 1) not educating them at all or else 2) Svengali-mom who insists that children look at her for permission before speaking to strangers.
At least I know what grades they're in. Christopher (18) is starting his gap year; he's working two jobs until Christmas, and is leaving in January to do volunteer work in South Africa and India (more on this later). Ben's in eleventh grade; Dan is beginning seventh grade; Em is in third. Time goes by, and by, and by.
So this week we've been reworking everyone's school schedules for fall. And I've been making lots of lists for how I want to organize my work time/family time/exercise/personal time/house duties/etc. in the coming months. I've been working on chronologies for the next volume of the History of the (Whole) World for a number of months now, and it's time to start trying to figure out where the book will begin and end, and what natural divisions it will fall into. I'm trying to write a bit of fiction each week for my own mental health–because I need to work on something that doesn't have a deadline attached to it, and because it keeps me from writing nonfiction like a textbook-compositor. (So, so easy to fall into that voice.) And I'm planning out the intermediate stage of the writing program that Peace Hill Press is publishing.
And I have a few other goals for the fall. To sleep a decent amount each night; to keep on READING and not just writing; to go walking, running, and riding (as opposed to just hunching behind my desk). And one of these days I'd really like to learn how to draw.
I love fall time. It makes me feel like I'm starting over again. I know spring is supposed to have that effect, but in Virginia, spring means that nasty sauna-like days will be arriving very shortly, which tends to squelch my joy. Fall always seems like the best time for new beginnings.
Now that I've written that, I realize that it's the ultra-academic-geek perspective on life. We get to go back to SCHOOL! What fun!