Yesterday I got a Reader Identification Card at the Library of Congress.
I've lived near D.C. most of my life, and I've never been to the Library of Congress. I've done research at the British Library, the New York Public Library, the London Library, the Cambridge University library, and the Bodleian and the Sackler libraries at Oxford. All of those took a lot of travel time and trouble.
The Library of Congress, on the other hand, is two hours away. I don't know why I've never been before. Maybe because Library of Congress doesn't sound like something that working writers use. It sounds like something that senators send their researchers to so that they can make a case for their favorite bill.
But I keep running across books in my research that I want to consult, but are only available in two places–the Library of Congress and the University of Leeds. Or the University of Mysore and the Library of Congress. Or the Library of Congress and the University of Stuttgart.
I walked from my hotel to the Library on Thursday morning, passing by all the normal landmarks,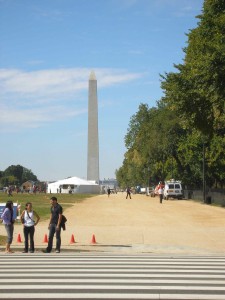 plus the protest du jour and some really specialized museum exhibits.
Apart from being way too cold (and I left my coat in the cloakroom along with my computer bag because you're not supposed to take anything except research essentials into the reading rooms), it was perfect. The two books I particularly wanted to see were available from the Main Reading Room of the Jefferson Building, which you're not allowed to take pictures in, but here are official pics of the reading room and its domed ceiling: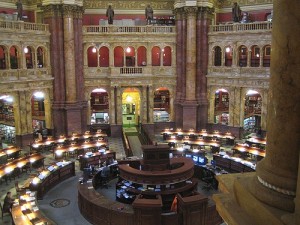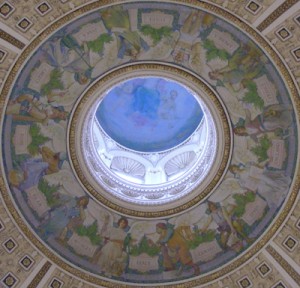 Like the NYPL and the British Library, the Library of Congress has closed stacks–you have to search for the title you want, request it, and then wait for someone to go down (or up) and retrieve it for you. Unlike the NYPL, the LoC has an online request system–you can sit at your desk, submit the request online, and wait for a staffer to deliver your book right to your seat.
Well, "deliver" is generous–it's a great system but every time, the staffers actually dropped the books at my elbow and stalked away–I swear D.C. is the unfriendliest city I've ever been in. Also the little coffee room with metal chairs and dirty tables isn't nearly as pleasant as the tea room at the British Library.
Despite that, I'm planning on going back soon and often. The Main Reading Room is a brilliant workspace. I still need to consult a score of hard-to-find books. And it's way closer than the University of Stuttgart.